Labor Day falls this year on the anniversary of a truly historic labor victory. Forty-eight years ago today, workers gathered in a hall in Delano, California, nervously awaiting the results of the first election in the fields: The fight to represent farmworkers who picked grapes at giant DiGiorgio Company. It was an election, Cesar Chavez later said, that he believed would make or break his very young union. He had built up a powerful network of outside supporters, but a loss in the DiGiorgio election in the summer of 1966 would have been difficult to explain.
Yet, UFWOC was in many ways an underdog. They were battling not only the growers but their allies, the Teamsters, a widely discredited union that had formed a sweetheart deal with the company and was competing on the election ballot. Teamsters had access to workers all day. UFWOC supporters were often fired. To support Chavez's union was taking a risk.
For months, organizers for the United Farmworkers Organizing Committee (UFWOC) had canvassed labor camps, set up shrines outside the DiGiorgio gates to get around anti-picketing injunctions, and spent evenings in small house meetings, trying to make the case for workers to support the Chavez union. After calling in all possible political chits to get fair election terms, UFWOC had also won the right for strikers and workers fired by the company for their union support to vote as well. But many of those strikers had found work faraway. They were in Texas, or Mexico. UFWOC sent letters, bodies, and buses to bring them back. They spread the word, and workers came form as far away as Mexico, to vote for "la union de Cesar Chavez."
Teamsters were so confident of their victory that their organizers lounged by the pool on election day, while UFWOC organized a caravan of cars and drivers to ferry every possible voter to the polls.
The vote took place Aug. 30. The ballots were taken, under guard, to San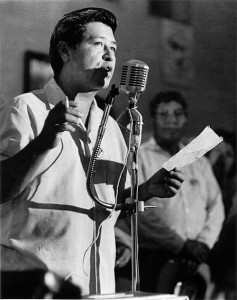 Francisco to be counted by a neutral party. The results were not released until the morning of Sept. 1. In these pictures, a great young photographer, Jon Lewis, captures the moment when Chavez went to the microphone in Filipino Hall to announce the results, and the explosion in the room when he read the numbers: UFWOC, 530; Teamsters, 331. The Teamsters had indeed prevailed among the current DiGiorgio workers, but UFWOC had succeeded in bringing back enough voters to carry the day: 513 ballots were cast by strikers and laid-off workers who did not need to fear repercussions on the job.
Crying, cheering, and screaming, the workers carried Chavez around the room in celebration.
Here's a link to the finding aid for all of Jon Lewis's collection at the Beinecke library at Yale.
Here is Chapter 13 of "The Crusades of Cesar Chavez,"  entitled "The First Test," where you can read the full account of the DiGiorgio campaign.