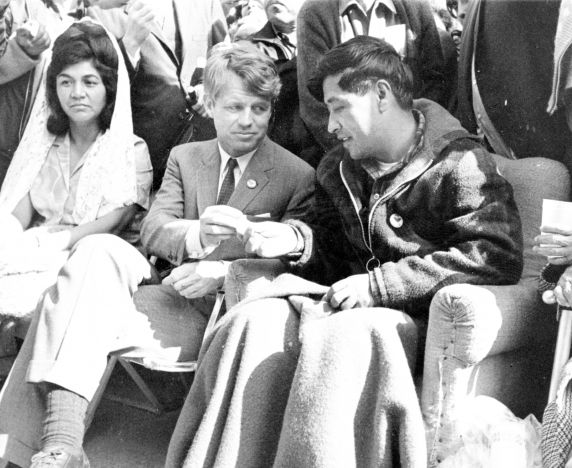 Forty-six years ago today, Cesar Chavez broke a 25-day fast in Delano, California, with Senator Robert F. Kennedy by his side. The picture of the rising political star and the weakened but equally charismatic farmworker leader became probably the most famous and enduring image of the movement. The photo has been used repeatedly throughout the decades, blown up to larger than life size, and invoked as recently as last December, when immigration rights activists broke their 22-day fast in a tent across the street from the Capitol.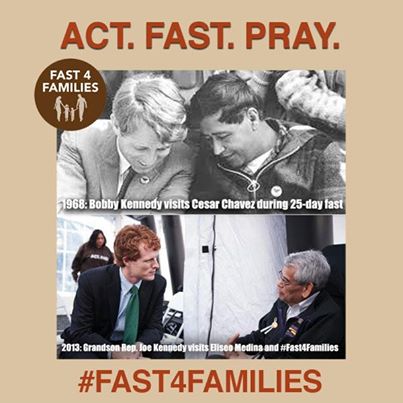 Here is the image, juxtaposed with a photo of Eliseo Medina, who was a 19-year-old farmworker when he first me Chavez in 1965 and today leads the immigration reform movement, passing his fast on to Rep. Joseph Kennedy, a grandson of Robert F. Kennedy.
Chavez's fast, to recommit the movement to the principles of non-violence, was a dramatic event that turned the union's new headquarters, Forty Acres, into a shrine and hastened Chavez's transition to national icon. The day he broke the fast was also a significant one for Kennedy: He had just told his key aides on the plane to Delano that he was going to run for president.
Speculation had been strong, and when Kennedy changed planes in Los Angeles the morning of March 10, 1968, he dodged a dozen questions from reporters. Here is a neat, historic  video of that encounter on the tarmac.
After Chavez broke his fast in front of thousands in a Delano park, Kennedy uttered these famous words:
            "When your children and grandchildren take their place in America, going to high school and college, and taking good jobs at good pay," Kennedy said, "when you look at them, you will say, 'I did this, I was there at the point of difficulty and danger.' And though you may be old and bent from many years of hard labor, no man will stand taller than you when you say, 'I was there. I marched with Cesar!'"
When Kennedy went to leave, crowds mobbed him, reaching out to shake hands and ask for autographs. He took almost half an hour to make his way eighty yards to the car where Jim Drake, a top Chavez aide, waited to take the senator back to his private plane. Drake started to leave, but Kennedy jumped out and climbed on top of the car, leaving a dent in the roof of the blue Chevy Nova. (Drake's son, Matt, recalls that the family left the treasured dent in the roof for quite some time!) In his Boston accent, Kennedy shouted, "Viva la huelga! Viva la causa!"
Here is a picture I found in the archives of Wayne State, of Kennedy standing on top of a car – although the photo is undated, and is likely from the presidential primary campaign in California two months later, when Chavez turned out an army of campaign volunteers who helped Kennedy win the closely contested primary.