The Crusades of Cesar Chavez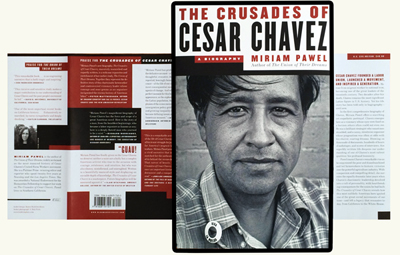 Recommended in starred reviews and hailed by experts in the field, "The Crusades of Cesar  Chavez" is the first comprehensive biography of the most significant Latino leader in recent American history. Rigorously researched and riveting in its dramatic arc, this is a searching, empathetic portrayal of a leader whose legacy and lessons have never been more relevant than today.
"The definitive story of this charismatic farm worker and controversial visionary leader whose courage and near-genius as an organizer invigorated the stormy history of American labor." – Peter Matthiessen, author "Cesar Chavez and the New American Revolution," a brilliant portrait of Chavez's movement in its early years.
Visit Crusades of Cesar Chavez for more information about the book, links to additional resources, and a great visual guide to the history, with a dozen rarely-seen photographs.
AmazonBarnes & NobleIndie Bound


Upcoming events on The Crusades of Cesar Chavez
March 31, 2015 – 92nd Street Y, noon - link here
more 2015 events TBA
Past Events
March 25 – Book launch at the National Steinbeck Center, Salinas – 5:30 PM, reception; 6 PM, Miriam Pawel in conversation with Eric Brazil - link here
April 1, 2014 – Los Angeles Public Library, 7:15 PM, ALOUD panel with Luis Valdez  - link here
April 4, 2014 - Texas Union, University of Texas, Austin, 12 PM: "Cesar Chavez, the man, the myths, and the legacy." - link here
April 5, 2014 – San Antonio Book Festival - link here
April 8, 2014 – Changing Hands Bookstore, Tempe, AZ, 7 PM- link here
April 12, 2014 –  Los Angeles Times Festival of Books, on the campus of USC - link to full schedule
10:30 AM – In conversation with Steve Lopez and Eliseo Medina, Bovard Auditorium
12:30 PM – Panel on biography, Hancock Foundation room
April 17, 2014 – Politics & Prose, Washington DC, 7 PM  - link here
April 22, 2014 – Powell's Books, Portland, 7:30 PM - link here
April 24, 2014 – University Bookstore, Seattle, 7 PM - link here
May 6, 2014 – Burbank Library
May 7, 2014 – UC Center, Sacramento, noon
May 28, 2014 – Glendale Library
Sept. 16, 2014 – Santa Monica College, 11:15 AM -link here
Sept. 18, 2014 – Pacoima Library, 6:30 PM -link here
Oct 7, 2014 – University of Chicago, Katz Center, Social Science Research, Room 224, Noon
Oct 7, 2014 – Newberry Library, Chicago, 6 PM - link here
Oct 8, 2014 – Northwestern University, Hagstrum Room, University Hall 201, Noon
Oct 9, 2014 –  University of Chicago at Illinois, UIC Latino Culture Center, Lecture Center B2 1 PM
Oct 14, 2014 – Pomona College, Rose Hills Theater, Smith Campus Center, 11 AM
Oct 25-26, 2014 – Texas Book Festival, Austin
Nov 7, 2014 – Commonwealth Club of California, Noon - link here